Wyoming and South Dakota Use "Portable ITS Solutions" for the Sturgis Motorcycle Rally
For fifty-one weeks out of the year, the town of Sturgis, South Dakota is just a normal small town.  Located not far from the Wyoming border just off Interstate 90, it is a true "blink and you'll miss it" settlement.  The community is home to just 7,000 residents who enjoy the peaceful calm provided by the backdrop of the Black Hills National Forest.But that all changes for one week every August.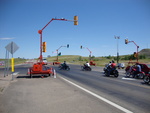 Each summer, motorcycle enthusiasts from all over the globe descend upon Sturgis to take part in the world's largest motorcycle rally.  Hundreds of thousands of people flock to Sturgis for a week full of motorcycle events, parties, concerts, and general rowdiness.  Bikers know the event as simply "Sturgis".  Locals refer to it as "The Rally".  Whatever you call it, it's the time of year when the population of the State of SD nearly doubles.  The 2015 rally was the 75th anniversary and estimates are in the One million (plus) range for participation.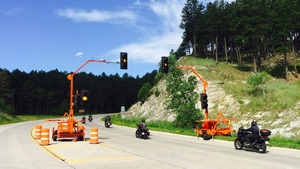 Crowds that large raise serious concerns about traffic control in a small town. To prepare for the increased traffic for this year's rally, both Wyoming and South Dakota DOT used portable ITS devices to help manage the traffic flow in and around Sturgis.  Portable ITS devices, also know as, Intelligent Work Zone (IWZ) devices include portable traffic sensor's, portable camera's, wireless communication, portable message signs, and portable traffic signals.  IWZ's are similar to a normal active traffic management system, except they are designed to solve short-term traffic congestion issues.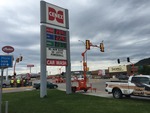 Portable ITS devices used for this project included: (38) portable traffic signals.  The portable traffic signals were equipped with video detection, turn-signals, automated programming, and ped-crossing signals.   (8) Portable traffic detection.   These trailers were used to collect vehicle speed, volume, and classification on the freeway's leading into Sturgis.  (14) Portable Message Signs. These were used to notify motorists of slowed or stopped traffic when approaching the event.